Memo to Auckland Transport: The worst place to place a cycle route is along an arterial or principle road.
This web site is about infrastructure best practice to encourage people to switch to cycling and keep them cycling.
Build
Better
bike
Routes
By the end of the 19th century, bicycles were an established form of transport in Europe. At the end of WW-II, as European wealth grew, automobiles began to sideline bicycles until 1973 when, in the wake of the OPEC oil crisis, Europe realised its vulnerability and began to rebuild its bicycle infrastructure.
But cycling was mostly active on flat land. It was not until the more recent introduction of effective ebikes that hilly regions like Auckland began to build a cycling infrastructure. Unfortunately, Auckland Transport makes up its own design principles, and does so badly, rather than learn from others like the EU.
In Europe, the cycle highways follow the rivers and the foreshore, they are far from motor vehicles and become tourist attractions. Called EuroVelo, it is a network of 15 cycle routes that connects the whole of Europe and currently totals 45,000 km. They are not along arterial or principal roads, but on quiet, safe bike routes.
Why can't NZ do the same?
ebike Roads – Can NZ Learn from the EU?
EU Characteristics of Cycle Roads
Continuous, long distance paved routes that facilitate reasonable cycling speeds
Independent of existing carriageways and motorised traffic
Offer strategic, functional routes that connect residential, commercial and business areas.
Integrated into the existing cycling network and other transport modes
Bi-directional and have a greater width than a cycle track
Often begin in rural areas but can continue into urban areas through green spaces & cycle streets, motor vehicles traffic excluded.
Often have a name, logo, signposting and other branding.
For all types of bicycles to easily use the highway, including cargo bikes and ebikes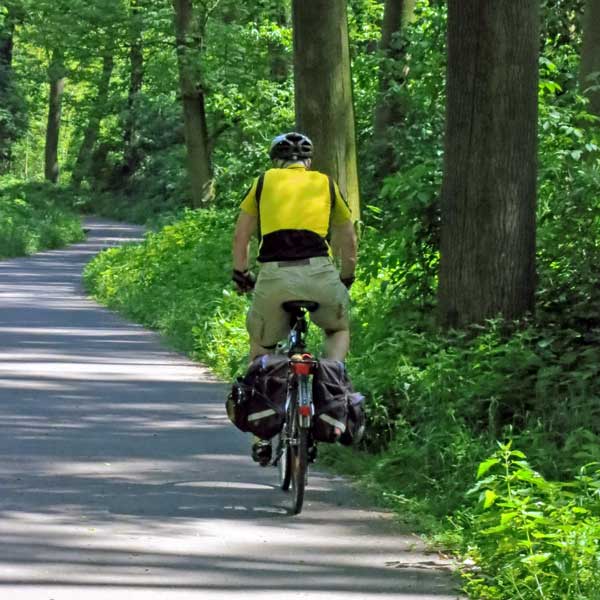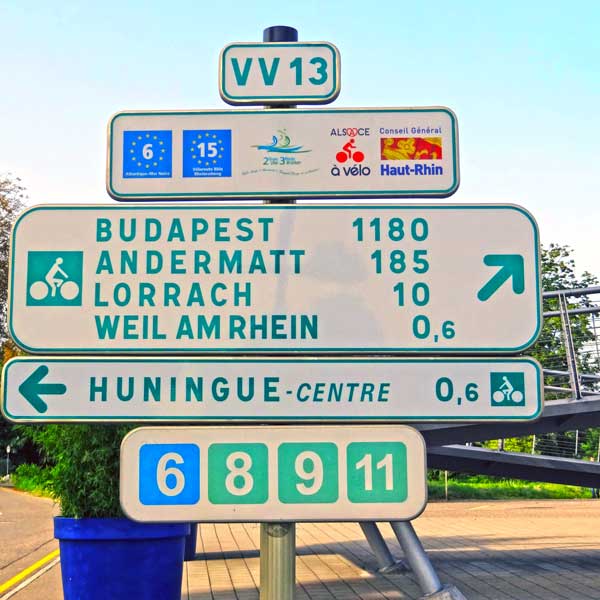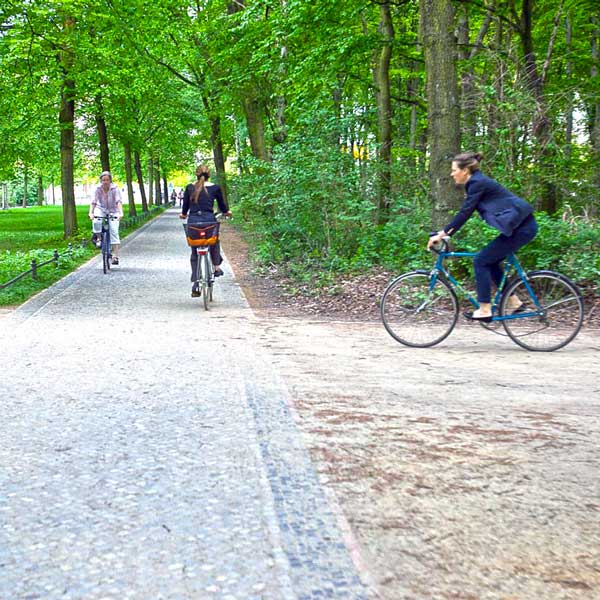 Memo to Auckland Transport and Auckland Council CCO Oversight committee
The worst place to place a cycle route is along an arterial or principle road. The best place is through a park, or on a dedicated cycle road. Intermediate solution is on back roads with few cars and no buses.
Why does Auckland Transport (AT) insist on removing on-street shopper parking, cutting down road lanes and installing cycle paths where cyclists breathe truck and bus fumes; finding themselves pitted against shop keepers, drivers and other road users? Cycle lanes along arterial and principle roads are hazardous at vehicle crossings because the cyclist is invisible to the driver.
The answer probably is inexperience. The planners are not cyclists who use the infrastructure. Instead, they go to books and studies, written by people with credentials, but not real-world experience. This web site dedicates itself to a different approach – search out patterns that work and assemble them in a sequence that can guide effective planning.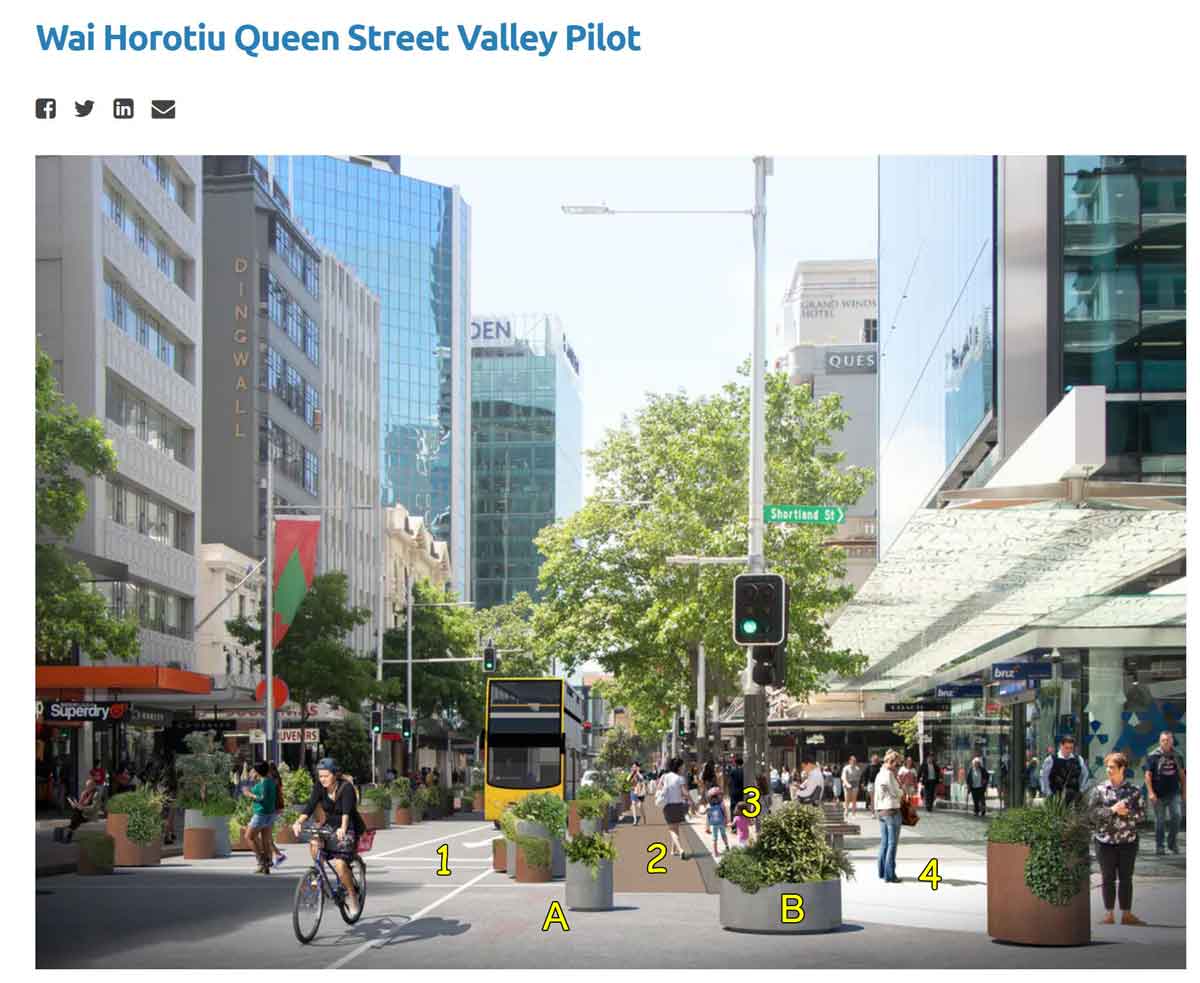 What's wrong with this picture?
Lane 1 is a shared bus and cycle lane. The cyclist is using it as a through street, the buses as a destination. It is too narrow, the bus fills it. It will only be a matter of time before a cyclist is struck trying to get past a stopped bus.
Meanwhile Lane A and B take valuable street width for plants. Pedestrians get Lanes 2, 3 & 4.